---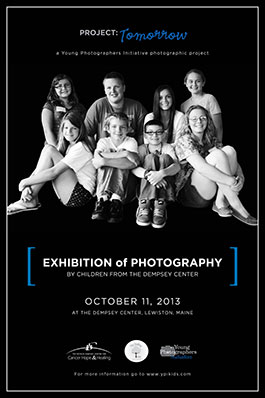 For its
2013 PROJECT TOMORROW
YPIKIDS is partnering with
The Patrick Dempsey Center for Cancer Hope & Healing
in Lewiston, ME. The Dempsey Center provides free support, education and integrative medical services to anyone impacted with cancer. The program was offered through
The Healing Tree Children's Program
. Eight children, ages 11 to 18, whose parents are living with cancer, participated.
The participants attended a one-day class with siblings and parents during which they received a Holga camera and a roll of film, were taught the basics of portrait photography and how to use the Holga cameras and were given a Portrait Assignment:
"An image is forever. Capture an image of your parent TODAY that will inspire you to remember what is special about who he/she is TOMORROW".
Both the parent and child had their portrait taken by Paul Denckla, the program's founder. Participants and parents also completed a writing assignment.
The culmination of the program was an Exhibition of the photos and writings at The Dempsey Center. A special Opening was held on October 10, 2013 for the participants, their families and friends. The Exhibition stayed open until October 11th during
The Dempsey Challenge
weekend.